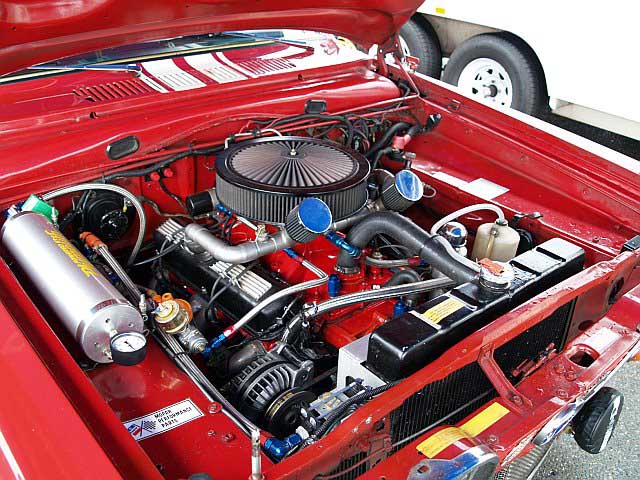 . Chrysler "TA" 4 bolt main small block, approx. 325 CI displacement, balanced and fully
blueprinted.
. 2.02/1.65 Manley Severe Service stainless steel valves, (Chevy stem size), ported "J" heads.
. Custom JE Forged pistons, 11:1
. Stock forged crank, cut to Chevy size rods and Manley H beam rods, ARP wavelock bolts.
. Sealed Power high volume oil pump.
. Stefs 13 row oil cooler, mounted adjacent to radiator
. Charlie's Oil Pans custom 7 qt. fully baffled aluminum oil pan, with 3 qt Accusump.
. Cloyes double roller timing chain.
. Custom Dean Elgin cam, .536in/.546ex lift
. Matched springs and mechanical lifters, Mopar Performance bushed rockers
. Edelbrock Performer RPM dual plane high rise manifold
. Holley 650 double pumper carb, with ProForm body
. MP Electronic tach drive distributor, MP electonic ignition
. Optima sealed gel battery relocated to trunk
. Custom Griffin aluminum radiator
. Torque limiting bolt added between engine and K-member.
. Custom tri-y headers, by Sanderson's Headers, Jet-Hot ceramic coated,
. Dual 2 1/2 in. aluminized tubing, bolt on either with or without mufflers
. Exhaust exits ahead of rear tires
. Noise level: 112 dB without mufflers, 97 dB with.