About Team Starfish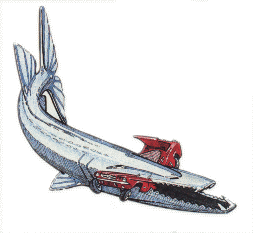 The car is a vintage race prepared 1966 Plymouth Barracuda Formula S which has been built to FIA Homologation standards as a Group 3 GT car for European type endurance races. For some race organizations, the car is classified as a "A Sedan" car, along with the Dodge Dart, Chevrolet Camaro, Ford Mustang notchback, AMC Javelin, and Pontiac Firebird. With others, it's a Group 3 GT car, where Shelby Cobras, and Grand Sport Corvettes roam.
In vintage races, all of the 1962-1969 "big bore" (over 2.5 liters) production cars generally race together, so we race also with "A Production", and "B Production" Shelby Mustangs, Corvettes, Cobras, Tigers, Jags, and even Ferraris and some larger bore Alfas and Porsches.
The car is raced under the name TEAM STARFISH to commemorate the efforts of Plymouth, Charlie Rainville, and Scott Harvey who ran factory backed Barracudas under the same team name in the inaugural year (1966) of the SCCA Trans-Am series. (Everyone knows of the famous Gurney/Savage Trans-Am Challengers of 1970, but few know the factory was fully involved in 1966 as well).

The "STAR" in "Starfish" was for the Chrysler "pentastar" logo seen here and on the front fender of almost every Mopar, and the "FISH", well, you can figure that one out yourself!
This car was built by Mike Ritz in 1994 as a vintage racer that still is street legal and road worthy, with help from a host of people and businesses. This car is not a "clone" of an Trans-Am car. We like to think of it as a "tribute" car to days gone by!
The car has now logged over 40 race weekends, and over 5,000 miles of racing action!
Some have wondered why a somewhat rare (about 2300 made) original Formula S car was not kept stock, especially since it started as a complete car. (Albeit dented and weathered from years of sitting outdoors.) The answer is easy.... Its an early A-Body, and every Mopar guy knows that if you don't have a B- or E-body, equipped with a fire breathing Hemi, you don't have a real Mopar! (just kidding, but some Mopar people really think that way!)