More Pages:

TransAm 1966 Photos from Vintage Motorsport
More pictures:
"Scott Harvey's Family Car", a portion of an ad from Motor Trend Magazine, Sept 1966
Charlie Rainville's Pit Pass, Sebring 1966

Sports Car Graphics Article about Marlboro 12 Hour Race, Sept 1966, Part I
The Original Team Starfish
---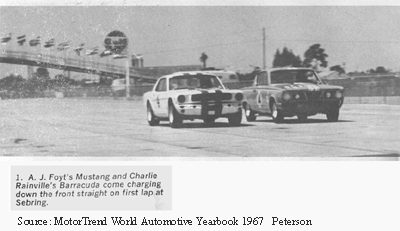 A quote from Paul, the son of the late Charlie Rainville; " Do you recall the photo of dad and AJ crossing the start/finish line side by side on the first lap with the rest of the field not yet in sight at Sebring 66 ? Dad used to say "What that picture didn't show was that he and AJ were giving each other the finger", and then he'd smile and get "that look" in his eyes. The Mustang had more power on the long straights than the Cuda but it fell behind in the corners. The Ford had overheating problems and the Cuda had to change the brake rotors, (yup the rotors not the pads), and they still placed 7th overall and 3rd in class."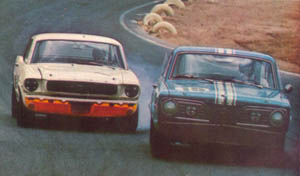 Riverside, 1966. Bob Tullius sneaks inside Bob Johnson's Barracuda
(from Sports Car Graphic magazine)