---

"The Formula S Barracuda's desirablility, however, lies in the completeness of its entity.....In short, the S package is the way the Barracuda should have been built in the first place....."
(Car Life, June 1965)
The Formula S was a special option package available
starting in 1965 and was available through 1969, (although it lost it handling/sporting roots from 1967 on, just like the later Shelby Mustangs.) It consisted of the following optional equipment:

* Commando 273 4bbl V8 engine, 235 rated BHP

* Heavy duty rear springs (6 leaf, 115 lb spring rate)

*Heavy duty front torsion bars (0.87 inch dia)

* Front anti-sway bar

*"Firm Ride" shocks

* Heavy gauge 14 X 5.5 in wheels

* Special Goodyear "Blue Streak" tires, 6.95 X 14

* Simulated "Mag" style wheel covers

* Tachometer, 6000RPM

* Speedometer, 150 mph

* Special Formula S badges

* Low restriction single exhaust with
no muffler (just a rear mounted resonator!)

* Cars with automatics got higher
shift points

Suprisingly, the Formula S package did not include the
well known "racing stripes", or the "wood grain" steering
wheel. Both were additional options.




This is a picture of all the parts to the Formula S package,
circa 1965. The black panel hides the engine stand!
(Photo from Hot Rod Magazine, Feb 1965)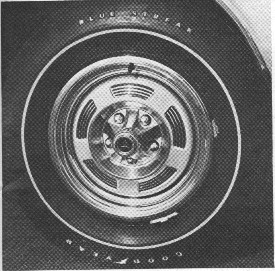 The special Blue Streak tires were developed as a joint effort
by Chrysler, who designed them, and Goodyear, who manufactured
them. The were made specifically for the 1965 and 1966 Formula S cars,
and offered a unique inner cord design with 29 degrees of cord angle,
verses 36 degrees for contemporary tires. (Remember, these were
bias ply, nylon corded tires.) This design, combined with the
special rubber compound, and a quite radical (for the time), aspect
ratio made the Formula S cars stick to the ground!

Needless to say, they are quite rare now. (Luckily, I still have the
original spare Blue Streak from my car safely tucked away!)

The 1965-1969 Formula S cars are recognized by
the Milestone Car Society.