Race report- CSRG Fall Finale, Thunderhill- Nov 4-5, 2006.
Well, I learned a lot this weekend........

The executive summary:

1). A car that is not properly tied down in the trailer will move
around and nothing but bad things can happen.

2). A 1 1/2 to 2 inch galvanized female pipe coupler not only is great
for driving in front axle seals on the front rotors with the 2 inch side,
but can be used to drive in rear axle seals as well with the 1 1/2 inch side.

3). Cars do not stop as well when one brake drum is full of gear oil (see above).

4). If you forget to install the transponder for qualifying, you start
at the rear of the pack for the race.

5.) Oil all over the track from a Corvette with a blown oil line feels a lot like a
flat rear tire.

Now the details:

We arrived at Thunderhill Raceway in Willows at about 8:30PM on Friday,
too late to do anything but notice that the car was tucked up against a
plastic step stool and the front of the trailer when I opened the side door. Apparently
I had failed to re-install the rear tie down straps when I removed the scooter from the
trailer after Laguna in September, the last time I even looked at the car. The front tie
downs were secure, but I never lowered the trailer rear door to check the rears before we
left home. Luckily, the only car damage was a 2 inch spot of paint removed on the right front
fender wheel lip from rubbing against the roll-around tool box. I was VERY fortunate.......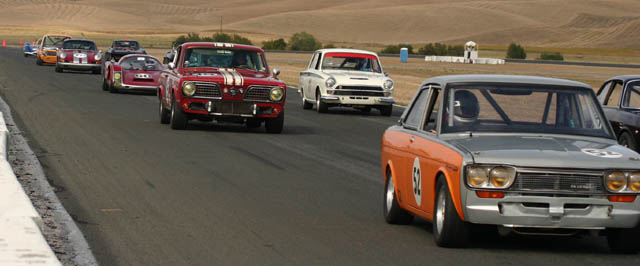 Since we arrived so late on Friday, my transponder did not have time to
fully charge before I went on the track Saturday morning. I noted it on my
checklist that I still needed to install it, but then promptly forgot everything as I
suited up before I hit the track. I qualified 8th out of 20 cars in my group (mostly
Corvettes, Alfas, and 911s) based on times, but had to start the race from the
back Saturday afternoon. The brakes felt funny, but still seemed to work OK.
Afterwards I noticed that the right rear tire was covered with fluid in the inside.
The fluid turned out to be a generous helping of RedLine's best gear
oil. Luckily, I had a spare axle seal in my "spares box", and with some
determination was able to remove the old seal from the housing and install
a new one. Problem solved.

The Saturday race was uneventful, except that I was able to pull myself
up to 10th from starting 19th on the grid. The only car behind me at the start was
a Corvette that broke early in qualifying (stalling on-track, bringing out a black
flag, which cut qualifying to only about 5 laps).

The Sunday race was a great one, as I had battles with a Lotus Cortina,
a Corvette, and a Porsche 906. However, about 2/3 of the way through the
race I noticed at Turn 10 that when I accelerated out of the turn, the car wanted to
spin, rather abruptly. The same thing happened in Turn 11, all the way to Turn 14.
Flat tire? What the hay? I quickly ducked into the pits, where Shelley was stationed at
the wall taking lap times. I asked her to check the rear end. "Something was wrong",
or so I thought. One of the officials from the black flag station nearby interceded
and told me that a Corvette had severely oiled down the track. Apparently, I was one of at
least 3 cars that had come in for the same reason. I re-entered the track and gingerly
ran out the clock, as did all the other competitors. The track was way to dangerous to
really race at that point, and everybody knew it. (Well, I did HAVE to pass that
911...) They threw the checkered flag early to boot. It took them about a half an hour
to clean up that mess before the next run group was allowed out...

I ended up 11th, down only one position from where I started the afternoon,
and still on the lead lap. Based on who I was racing with when I came in, and
who I had passed earlier, I would have finished 6th. Not a bad weekend, all things
considered!

Respectfully submitted;
Mike Ritz
Team Starfish Racing
,